DRONE 1800
Autonomous surface drone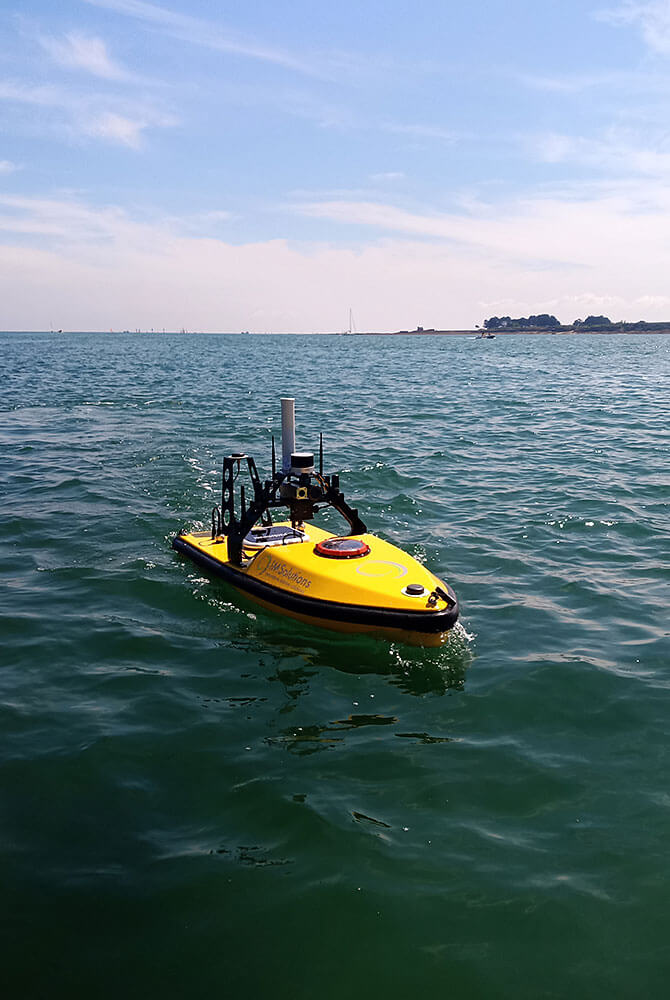 DRONE 1800 is a multi-mission, flexible shallow water Unmanned Surface Vehicle and easy to transport and deploy.
It is a multi-sensor platform which includes a single or multibeam echosounder, a winch to collect data into the water column until 30 meters and video links with deep learning capabilities.
THE DRONE 1800 endurance is more than 8 hours @1.2ms depending on the weather and sea conditions.
An hydrodynamic shape the DRONE1800 design induce a stable platform for the survey and thereby delivers high-quality data.
An autonomous boat that can sail precisely in accordance with mission planning. A cutting edge technology which make the survey safe an affordable with a diversity of applications, all the while maintaining the highest standards of data quality. On-board cameras ensure safe navigation.
Technical Specifications / Drone 1800
Dimensions

Length : 1,80m

Width : 0,66m

Air draft : 0,80m

Draught : 0,15m

Weight : 31kg

Payload : 28kg
Moonpool : 250x220mm

Performance
Speed (max) : 4,2 m.s

Speed (survey) : 1,3 m.s

Propulsion : 2 motors

Power system
Battery : Lith-Ion 2,5 kWh

Endurance : 6h à 1.2 m.s

Charging time : 3h

Extra power : Up to 5 kWh

 Survey power :

1 kWh
Communications
Radio RC : 5 GHz Base station 

Autopilot : Mission planning, automatic waypoint navigation, real-time feedback

Telemetry options : Modem Radio LTE

Options IT
Survey computer : Rugged

Windows immersive : Live remote control

Navigation  software :

Mission planning compliant with all hydrographic solutions
Supervision option
HD camera : Forward and backward looking cameras

Video target detection : Option target detection


Lidar : Scanning (100m)

AIS : Option AIS transponder
Storage and transport options
Launch and recovery system :

Cage or trailer in option
Navigation equipment
GNSS receiver and compass : L1/L2 frequency, multi constellation, true heading 0.2º

NTRIP modem in option

IMU motion sensor in option



Extra payload
(can be installed on demand)
Winch system : 30m depth in the water column – option 100m
Singlebeam : EA40®, PA500®
Multibeam : Norbit®, Konsberg®, R2 Sonic®, Teledyne®
ADCP : Teledyne®,…
Discover our 3 other marine drones