DRONE 1300
Autonomous surface drone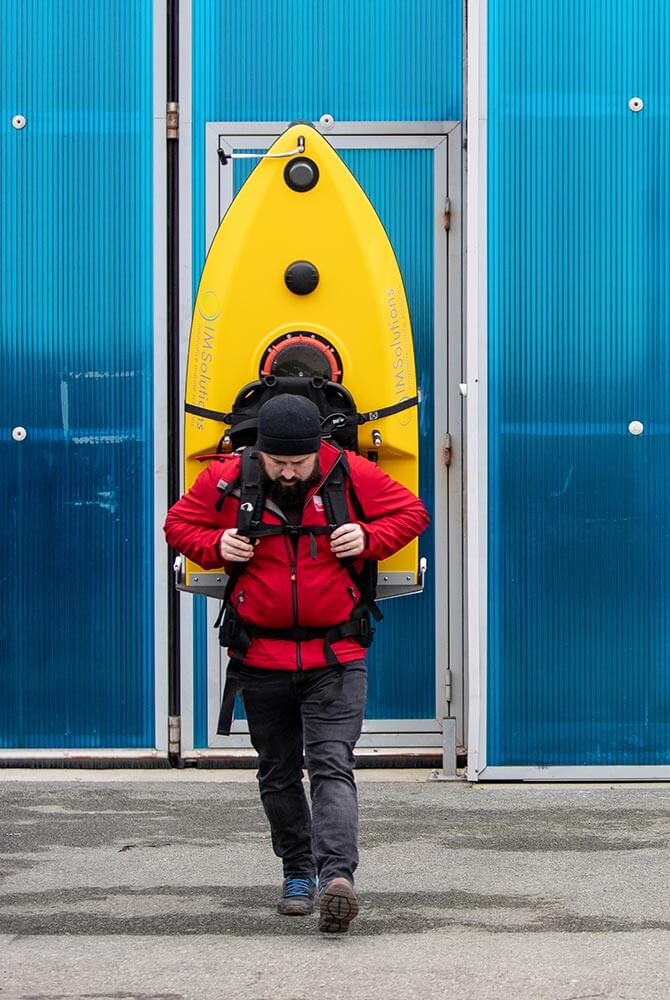 MARINE DRONE 1300 is a multi-mission, flexible shallow
Water (up to less than 10cm) Unmanned Surface Vehicle and easy to transport and deploy.
MARINE DRONE 1300 is a very versatile multi-sensor (ADCP, single beam, environmental sensor) autonomous surface platform. Delivered with a backpack, the MONODRONE 1300 is very easy to deploy in the most difficult to access areas. He can support up to 28kg of payload.    
THE MARINE DRONE 1300 endurance is more than 3 hours at 1.2ms depending on the weather conditions.
The hydrodynamic shape design of MONODRONE 1300 induce a stable platform for the survey and thereby delivers high-quality data.
An autonomous boat that can sail precisely in accordance with pre-programed mission planning. A cutting edge technology which make the survey safe an affordable with a diversity of applications, all the while maintaining the highest standards of data quality.
THE MARINE DRONE 1300 is an accessible, easy-to-deploy technology that keeps operators safe.  
Technical specifications / Drone 1300
Dimensions
Length : 1,30m

Width : 0,66m

Air draft: 0,30m

Draught : 0,15m

Weight : 19kg

Payload : 6kg
Moonpool : 250x200mm

Performance
Speed (max) : 2,3 m.s

Speed (survey) : 1,3 m.s

Propulsion :

2 brushless motors
Power system
Battery : Lith-Ion 1,2 kWh

Endurance : 3h à 1.2 m.s

Charging time : 1h

Survey Power :

312 Wh
Communications

Radio RC (remote control) : 800m range 5 GHz

Autopilot : Mission planning, automatic waypoint navigation, real time feedback

Telemetry : Tri-band telemetry 2,4/5 GHz / LTE
IT options
Rugged PC : Rugged computer

Navigation software :

Compliant with all hydrographic solutions
Storage and transport options
Launch and recoverysystem :

Back pack
Positioning Equipment
GNSS receiver L1/L2 and compass : RKT, L1/L2 frequencymulti-constellation, 0.2°

Heading

NTRIP modem in option

IMU in option

Datalogger in option

Payload
(can be installed on demand)

E

cho soundersingle beam, CTD, SVS,  environmental sensors
Discover our 3 other marine drones